T Shaped Quick Connector Hose Connectors
Product Detail
Product Tags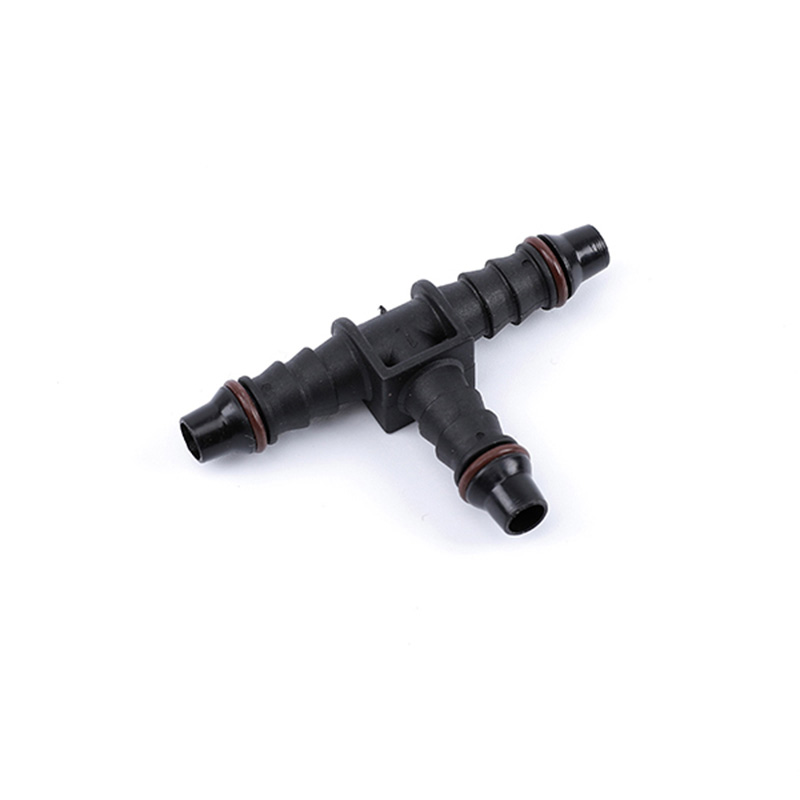 Product Name Hose Connector T Type 3-ways ID6
Product Type Equal T Type 3-ways ID6
Material Plastic PA12GF30
Specification PA ID6-ID6-ID6
Working Environment 5 to 7 bar,-30℃ to 120℃
Product Name Hose Connector T Type 3-ways ID8
Product Type Equal T Type 3-ways ID8
Material Plastic PA12GF30
Specification PA ID8-ID8-ID8
Working Environment 5 to 7 bar,-30℃ to 120℃
Product Name Hose Connector T Type 3-ways ID8-ID8-ID10
Product Type Reducing T Type 3-ways
Material Plastic PA12GF30
Specification PA ID8-ID8-ID10
Working Environment 5 to 7 bar,-30℃ to 120℃
Product Name Hose Connector T Type 3-ways ID8-ID14-ID8
Product Type Reducing T Type 3-ways
Material Plastic PA12GF30
Specification PA ID8-ID14-ID8
Working Environment 5 to 7 bar,-30℃ to 120℃
Product Name Hose Connector T Type 3-ways ID8-ID20-ID20
Product Type Reducing T Type 3-ways
Material Plastic PA12GF30
Specification Rubber Hose ID8-ID20-ID20
Working Environment 5 to 7 bar,-30℃ to 120℃
Product Name Hose Connector T Type 3-ways ID10
Product Type Equal T Type 3-ways ID10
Material Plastic PA12GF30
Specification PA ID10-ID10-ID10
Working Environment 5 to 7 bar,-30℃ to 120℃
Product Name Hose Connector T Type 3-ways ID10-ID8-ID10
Product Type Reducing T Type 3-ways
Material Plastic PA12GF30
Specification PA ID10-ID8-ID10
Working Environment 5 to 7 bar,-30℃ to 120℃
ShinyFly is not only offering quick connectors to customers, also offer the best service.
Business Scope: Design, production and sales of automotive quick connector and fluid output products, as well as engineering connection technology and application solutions for customers.
Shinyfly's quick connectors are designed and produced strictly in accordance with the SAE J2044-2009 standards (Quick Connect Coupling Specification for Liquid Fuel and Vapor/Emission Systems), and are suitable for most media delivery systems. Whether it's cooling water, oil, gas or fuel systems, we can always provide you with efficient and reliable connections as well as the best solution.
---
Previous:
T Shape 3 Way Plastic Hose Connectors
---